Welcome to Allen D. Nease High School
The mission of Allen D. Nease High School of Ponte Vedra, Florida, is to inspire all students to be globally-minded and socially responsible life-long learners by providing a rigorous and differentiated curriculum in a safe and nurturing environment.
Office hours are from 8:30 am - 4:45 pm, Monday – Friday
New Student Information
Call Guidance to schedule an appointment. The direct line is 904-547-8321. All students are required to fill out these forms when applying. We want to make sure a school counselor is available to meet with you, so please call for an appointment.
Parent Resources To Assist Students
The district has made Year-at-a-Glance Pacing Guides for all grade levels available for view or downloading. You can find them, as well as the Parent Resource Guide and Student Progression Plan, here.
You can find the District ELL Plan here.
View resources to help with the 8th grade to 9th grade transition here.
Use of Service Animals by Individuals with Disabilities information can be found here.
You can find the Nease 2018-2019 School Improvement Plan here.
You can find the Nease 2017-2018 SPAR report here.
Every year middle and high school students and parents are provided access to the Department of Economic Opportunity's economic security report of employment and earning outcomes. The full 2017 Economic Security Report can be accessed through this link:  http://www.beyondeducation.org/temp/ER_Report.pdf
2021-2022 Course Registration
Virtual Registration Meeting Links


Click the name below that is listed on your registration sheet label to enter your meeting.  You will be placed in a waiting room first.
Hollis, Doane, Kifah, Smith, Kennedy, Combs, Power, Cullipher
FAQ for Emergency Order 2021-EO-02 (Spring 2021 Assessments, Promotion, Retention, Graduation, VPK)
The SJCSD Guidance Department has provided an FAQ to answer common questions about Executive Order Number 2021-EO-02 which was recently issued by the Florida Department of Education. The FAQ discusses the impact Executive Order 2021-EO-02 will have on assessments, promotion, retention, graduation, and VPK.
---
High School III Proposed Zoning Plans
With High School III currently under construction and planned to open for the 2022-2023 School Year, St. Johns County School District released Proposed Zoning Plans on March 23rd. These plans will impact a number of current attendance zones.
At this time, the proposal for High School III impacts the current attendance zones and student at Allen D. Nease High School and Bartram Trail High School, Fruit Cove Middle School, Alice B. Landrum Middle School, Liberty Pines Academy, Pacetti Bay Middle School, and Switzerland Point Middle School.
The proposal for West End at Town Center impacts the current attendance zones of Palm Valley Academy and Pine Island Academy. The proposal for River Landing impacts the current attendance zones of Allen D. Nease High School and Ponte Vedra High School.
High School III is located within the Twin Creeks development at 1070 Beachwalk Blvd. Other possible attendance zone changes relate to West End at Town Center and River Landing, both in the Nocatee development.
ESE Parent Advisory Meetings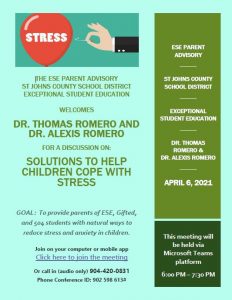 On April 6th from 6:00pm to 7:30pm, the ESE Parent Advisory will welcome Dr. Thomas Romero and Dr. Alexis Romero for a virtual discussion titled "Solutions to Help Children Cope with Stress." Join the meeting online via Microsoft Teams or join via phone by dialing 1-904-420-0831 and then entering the conference ID: 902 598 613#
For the safety of the students and staff at Allen D. Nease High School, St. Johns County School District has a policy where all visitors must complete a volunteer online school access form which is good for three years. When doing so you are agreeing to a criminal background check and a sexual offender check. You are also agreeing to abide by the policies and procedures of the St. Johns County School Board and its facilities while volunteering. The process can take two – six weeks to process your form.
The following link will direct you to the online form. The form will take approximately 3 minutes to complete.   School Access Form
Nease High School is a closed campus.  Visitors to our campus are required to check in at the front office. When you arrive on campus you will be asked to present your I.D. The three forms of acceptable ID's are a Drivers License, a State I.D. and a Passport.
FortifyFL is a website and app developed at the direction of the Florida Legislature. Any student, educator, parent or member of the public can report school safety concerns directly to law enforcement and school administrators anonymously and easily through the FortifyFL app or getfortifyfl.com.